Yogurt and Kefir are extremely versatile foods, believe it or not!  Kefir, for example, can be used as a replacement for buttermilk in cooking and baking.  It is most commonly used as a base for fruit and vegetable smoothies.  Blend together a cup, or your desired amount, of kefir, and blend with your favorite fruits and/or vegetables for delicious and healthy smoothy drinks.  Because of the high protein, you're sure to have a healthy and filling snack or meal.  Some of my favorites are:
mango
strawberry, blueberry, bannana
apple, blueberry
pineapple, banana
Try adding kale to any of these for some extra nutrients or some raw honey to sweeten it up!
Yogurt Cheese
While it's not truly a cheese, it's very similar to a delicious goat cheese.  Start by putting a quart of our yogurt in 3 layers of cheese cloth (make sure the cloth is large enough to fold over the top and twist).  Set the cheese cloth in a bowl strainer over a medium sized bowl.  Then place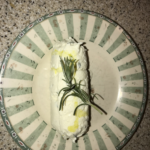 a small teacup saucer on the wrapped cheese cloth and place a 15 ounce can on top of the saucer.  Leave in your fridge for 3-4 days.  You may have empty the whey half way thru.  When finished, dump the straine
d yogurt in a bowl, add 1-2 tablespoons of olive oil, a pinch of salt and your favorite fresh herb (my favorite is freshly chopped rosemary), dried chopped berries or nuts.  Mix together and serve from a bowl or place on a piece of parchment paper and roll into a
cheese log.  Now spread on your favorite cracker, bread, bagel and enjoy!!!!!
Salmon Topping
My personal favorite!  Start by chopping a small to medium onion and a clove o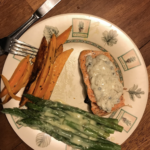 f garlic and sauté in a skillet until onions are transparent and slightly soft.  At the same time, bake your salmon filet, skin side down at 375 degrees for 12-15 minute (until it flakes).  I usually drizzle olive oil and season lightly with salt and pepper.  Now take a pint of our yogurt and add 2 tablespoons of capers, 1 teaspoon of dill, 1 teaspoon of cracked pepper, and pinch of salt and the onions and garlic.  When the salmon is finished, plate and top with sauce liberally.  Enjoy!!!!
Stay tuned for more recipes to come!